We arrive in Costa Rica in the dark in pouring rain. Yes, it is rainy season….
We pick up our rental car and spend the first night in a hotel close to the airport. http://www.hotelbrillasol.com/
But still, it feels already a bit like in the jungle, for sure Costa Rican with the typical Costa Rican breakfast with rice, black beans etc.
We have done a bit of talks and research about Costa Rica. I trust my Swedish connection, recommending Santa Teresa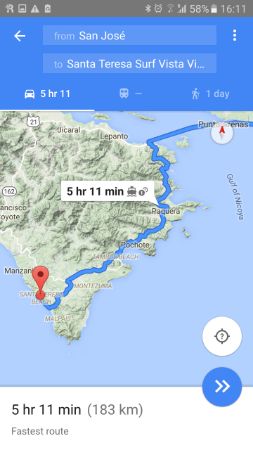 .
We head towards the Nicoya peninsula through the lush tropical rain forest.
From Punto Arenas we take the 1.5 hours ferry to Paquera.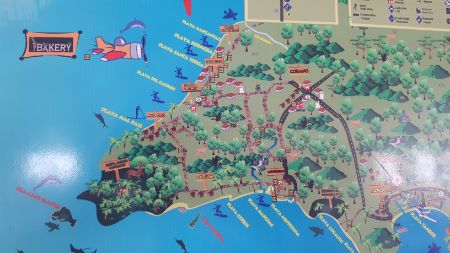 We heard, that 4×4 are a must, but as we did book a normal car, we go for the adventure of driving off road with our funny rental car. Sometimes we have to drive slalom around big holes in the unpaved road, sometimes we have to cross little rivers…
Santa Teresa unfolds its beauty at an unpaved road along the Pacific coast.
We do not have accommodation yet, we check out the area, the beaches, the surf breaks and several beautiful locations with ocean view. Finally, we are lucky at Peter Ottingers Iguana Lodge, right at the beach.  http://iguanalodge.com/  Peter is an Austrian longboard champion, who came here in 2004 and bought a great piece of land right at the sea. In the morning you can swim in the tidal pools or you can choose among several beach breaks. He came here before there was any road or infrastructure, enjoying the waves with very few others. Today, he has a prime spot with legendary full moon parties with bonfire, life music or him DJing. Still, in the morning, he checks the waves and goes for a surf session, does his yoga with ocean view and reserves time for his lovely wife and daughter.
The Pacific coast has great swell these days and we are looking for the smaller waves…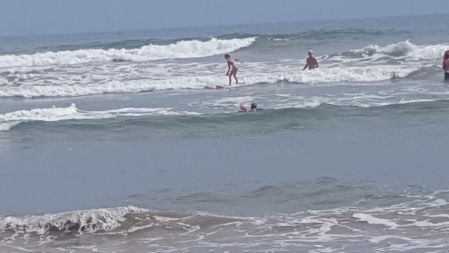 We do some rental hopping to the tommy relax place and the tropico latino.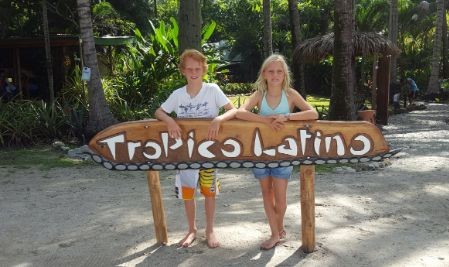 At Santa Teresa, there is an amazing vibe. The little village has attracted expats, that decided to live the endless summer life.There is an immense number of very healthy and happy looking people from various countries. You see them on their bikes in tiny bikinis with their surfboards on the dusty non paved roads.
They seem to be happy and relaxed, doing yoga and going to surf, enjoying the community and the purity of nature, being kind and caring. But is this enough?
There is Tommy from Italy; he is a chef and ski instructor – just sick of the high taxes in Italy. There is Christophe from France – a yogi with long term experience in India, who wanted to find his peace of mind. There is Maryann from Cape Cod, who feels in peace and in best company in Santa Teresa. There is Aleja, who has had her job in the hip advertising agency in El Salvador and trying to go surfing every morning until she decided to dedicate her life to surfing and moved to Santa Teresa.  There are many more from Florida, Brazil, Argentina, Sweden, etc. who love the remote place with gerat vibes and great people.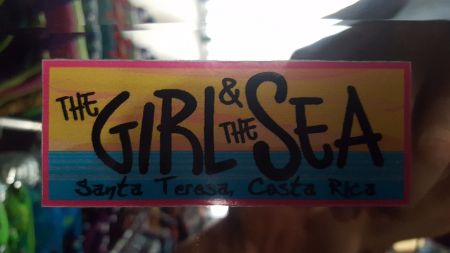 Olam, at the Nautilus hotel, a tranquil yoga-lovers retreat, is an amazing healthy food place with delicious food in a great environment. When you do your yoga upstairs, you get the tempting smell of croissants, scrambled eggs etc.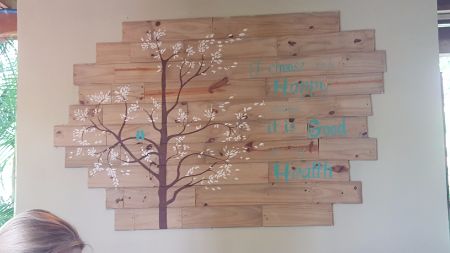 A must is the bakery – amazing food and great people.
When it gets big in Santa Teresa, we head to our private familty spot Cabuya, with a beautiful long right…
Categories: Costa Rica