About us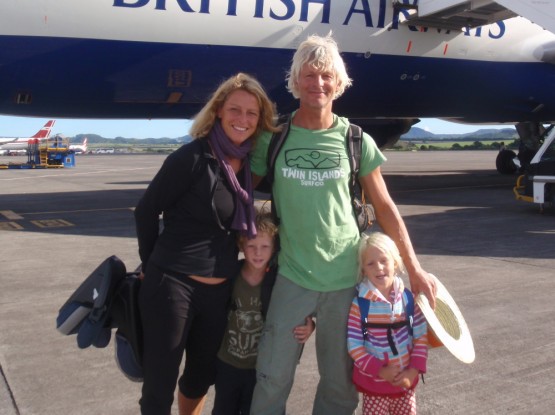 Do what you like, like what you do… On July 4 20009 we (Gesine and Gerry and our kids Robinson (4) and Sienna (3)) packed our bags in Munich Germany and embarked on an endeavor to discover what people do and like. We headed westward, equipped with backpacks and a mission to find waves, wind, beaches, friends, magic spots with a great spirit, …
It was the best year of our life, full of unforgettable memories, happiness, inspiration, love, and insight into the diverse ways of living on this planet. We are thankful for every single moment…
When we arrived back in Germany, we have made strong efforts to carry the spirit from our travels into "real life" back home. It has changed our life forever! We have shifted our values and have been trying to focus on authenticity, community, friends, family, love, eating healthy, enjoying nature, flow moments in our sports, happiness…
After a year of soul searching we moved to the island of Mallorca, our new home. We appreciate every day of our life here.
We have continued to follow our desire to be travelers, with a few trips in our 1978 VW Westfalia van to Holland, Denmark, Switzerland and Sweden, adventures in Africa, Seychelles, Corsica and Fuerteventura, diving into the life on the neighboring Balearic Island Menorca, Ibiza, Formentera, exploring deep powder in the Alps,… Every time we travel, it feels a bit like being on our world tour again, where our minds are set free and our souls feed on laughter, sunshine and beauty.
Seven years after our adventure around the world, we are packing our bags again, heading on our Mindful Tour for a few months in the summer of 2016.
With every day, week, month passing by we receive more confirmation that traveling with an open mind and heart is amazing medicine against the hamster wheel, burning out,  and neglecting love, health and desires. Highly recommended!
Go barefoot – feed your soul!
You can reach us at
gesine at letsgosurfing dot de
gerry at letsgosurfing dot de
or stay with us at
https://www.airbnb.com/rooms/383401
LOVE PEACE and HAPPINESS
Gesine & Gerry
Throughout the years, we have found some truly inspiring people, places and ventures, here is a selection of links:
www.timduffyfilms.com
Tim is also know as Sam Vertical due to his insatiable thirst for shredding waves and mountains, and makes really cool films!!
www.lomilomihanalima.com
Brenda has the best healing spot on da Islands!!! You will feel rejuvenated, recharged, re-energized, relaxed, real…
www.twinislandssurf.com
New surf fashion brand label launched by the great surfing talent Mike Miller, also in honour of his late brother Peter Miller. The twin islands represent the Mokoluas in front of Lanikai which the brothers used to surf.
www.cabrinha.com
Truly inspiring art integrating elements of the ocean, Polynesian culture, nature with the underlying theme of beauty, by one of the great watermen on our planet, Pete Cabrinha.
www.cabrinhakites.com
Surely the best kites on the market, constantly improved by innovations from the man himself, Maui waterman Pete Cabrinha.
www.decaykiteboards.co.nz Dave Kay has an amazing passion for making boards that give you the best ride on water, all boards are hand made in his factory in Ruakaka and one of his 135 x 40 cm Falcata models is now traveling with us through NZ