Maui"s highest peak creates weather, life, energy, pretty much everything on the island. It is a temproarily dormant volcano that last erupted in 1600 or 1790 depending on whether you believe story tellers or lava scientists, and has one of the largest craters in the world with a circumference of 34 km. With its elevation of 3055 m above sea level it is better to pack a fleece and if possible a hat. If you measured Haleakala from its base in the ocean, it would actually be slightly taller than Mount Everest. Not for long though, as the crater is slowly but surely sinking into the ocean under its own weight. The fire goddess Pele was madly in love with Maui, and basically created this island as a relief of the demigod Maui, with the West Maui mountains resembling his head and Haleakala his heart. Another Hawaiian saga says that the demigod Maui caught the sun up here and basically held it hostage until it agreed to give a bit more sunlight to everyone in the valley. Well, it somehow worked since the weather is absolutely beautiful here. You can get every climatic zone you want around the crater, from wet like Vancouver or the West Coast of New Zealand"s South Island (in the East) to dry as a bone cattle land (in the South). There are paradise organic farms that grow everything imaginable from avocados, mangoes, papayas, breadfruit, oranges, bananas, coconuts, ginger, macademia nuts, guavas, … With the fresh rain that falls almost daily there is plenty of fresh water on the island. So basically you have a little garden of eden which can be completely self-sustainable (Maui is still a little backwards on renewable energy, but they are working on that one).
We drove up to Haleakala for sunset. First stop: magic organic gardens on the way to Makawao, an old cowboy town. They has two circular labyrinths, where the walk to the center and back is used for meditation. Sienna and Robinson had their own style (and speed) of meditation, but were instantly drawn Du vil ogsa finne at din valgte side tilbyr blackjack bonus med en rekke forskjellige gevinstlinjer for hver spinning av hjulene, alle lett avgjort av spilleren. to these and wanted to walk the path over and over again…
Next stop was a lavender farm up in the hills near Kula. It is cool up here, but magic to see ocean on two sides.
Then we wound our way up to the pick, on a very gentle road. Amazingly, vegetation persisted until we reached the peak. The view and energy up there is literally breath-taking. You feel that the world is below you, but also very close, as if you could just take a few steps and jump into the ocean. And the sun put on a good show for us, here are some impressions:
Back in Paia we entered the world"s best grocery store, Mana Foods, which has been here for over 25 years. There are three reasons for this:
1. it has an amazing selection of very yummy and very healthy and very organic foods
2. every one working there has that enlightened look on their face and gives you the impression that they want to just really do whatever they need to do to make you happy (no, they are not stoned, I am speaking of honest pure kindness speaking from their eyes).
3. it is THE social spot for the locals and there are few places in this world where you will find such an eclectic mix of inspiring, weather-beaten, healthy, crazy, let"s just say unconventional people. The cool thing is that the locals will go to the store several times a day, with the pretense of having to buy another bottle of Kambucha Synergy Juice or a few mango coconut bars, but really what they are doing is coming back to see their friends…
Check it out here www.manafoodsmaui.com/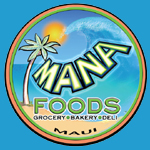 Mana has brought us new taste sensations, and confirmation that it makes total sense to surround yourself with people who have a positive spirit and whose natural reaction is to be friendly to you…
Categories: Hawaii - Maui