THE VILLAGE
When successfully landed with the water plane, some small motorboats approached and picked us up and drove us to the beautiful beach at the shoreline.
There we waited in the shade and adjusted to Fiji time, which means that nothing really happens and you do not know when something will be happening. There was another stage called Kadavu time, which meant people were even more relaxed and things happened usually sometime between sunrise and sunset. Our captain Tulala loaded the boat with petrol and food and took off towards the East on a ride along the coral reefs of the North Coast of Kadavu to Lominikoro village.
Reaching the village, we put on our sulus for the welcome, and ensured that we wore nothing on our head or back as this is not permitted in ancient Fijian tradition.
There are about 400 people living in this village, Kelekele is the female chief of Lominikoro and 3 other villages.

We relaxed in front of a house and tried to cool Sienna's fever down. We entered into a different world full of caring and sharing. They built a bed for Sienna, Kelekele's sister gave us a room in her house, about five women were cooking day and night to surprise us with wonderful delicious food, there were always friendly people around us, sharing their stories and listening to others.
There were more than 50 kids of all ages in the village.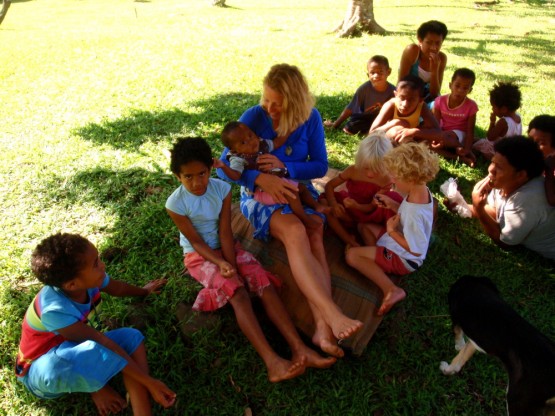 Very quickly, they came over to us, looked at us, gave us smiles and started playing with Sienna and Robinson.

They showed them their little world.



They played for hours with the chicken, the baby kitten and the soccer ball we brought as a gift.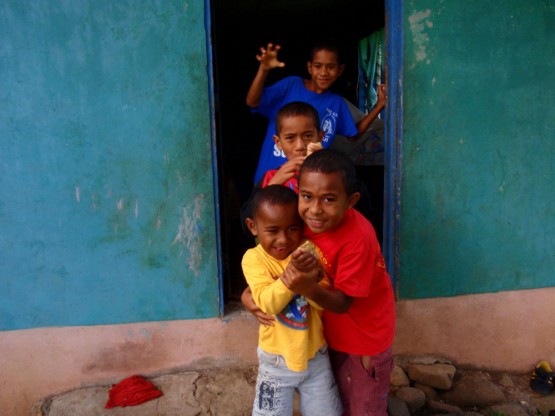 But mainly they were running around, giggling, talking in a creative mix of Fiji-English.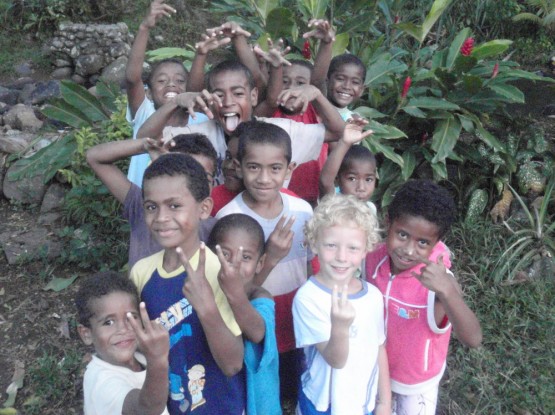 And Robinson and Sienna shared their pens and games



and gave them playmobil as presents.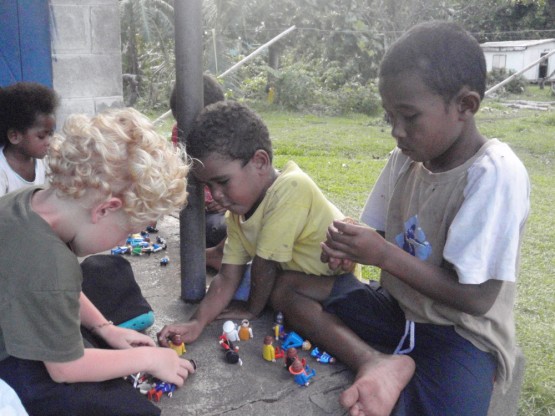 Later in the afternoon chief Kelekele arrived and Gerry was invited in the main bure for the sevu sevu, the welcome ceremony.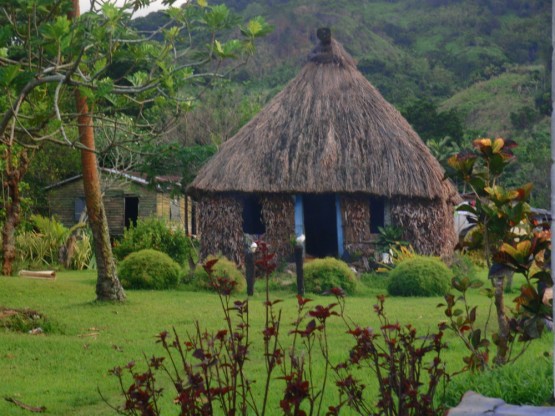 In the chief bure there were about 15 men sitting on the grass mat, all dressed up beautifully with their sulus.

Everything was prepared for the kava ceremony: the big bowl, the coconut shells for drinking, the long strings of the cava root, that had to be squished extensively in the spring water until the water gets a grey and muddy colour. Cava tastes a little bit bitter and is supposed to have an effect like alcohol.

One after another got a coconut shell full of cava. When they ask "low tide or high tide?" you can easily go for high tide (full cup) on your first parties as the effect of the kava is only felt after drinking kava over a longer time.

When you empty your bowl, there is the clapping of the hands and a " matha", which means "empty" …
In between Zak and the others played on their guitars and Ukulele and sang Fijian songs with strong beautiful voices.

The sevu sevu ceremony went on for hours and hours, the air was filled by the beautiful sound of the songs and the clapping of the hands when the next round of cava was served. In Hawaii you only drink one bowl each, on Fiji you can easily drink more than 10 bowls…By now we were accepted in the village and all of our family will be always welcome.

In the meantime I was sitting with the women in the kitchen, while they were preparing delicious bread, chicken soup, cooked tarot, sausages, fresh fruit, tasty coconut cakes,…. The kitchen was filled with joy and laughter, a hen was laying eggs next to the warm stove, kids were having a sleep on the grassmat nearby.

This was the beginning of a cooking marathon. These wonderful ladies were cooking day and night for us, the house was filled from dawn till midnight with sensational smells from sweet to savoury.

We were eating and eating until the stars were shining bright and we felt deep fatigue, so we cuddled up in one big bed and slowly drifted into dreamland while listening to the songs from the chiefly bure.

The next day we visited the school and enjoyed some time at the refreshing river. Kids were swimming around in transformer t-shirts and billabong shorts, women were sitting and washing the colourful sulus while talking and laughing. The men were working on the fields growing mainly kava roots and preparing the kava for the upcoming farewell ceremony.
We got the most beautiful leis with colourful flowers and Robinson even got a new shirt to wear for our farewell ceremony.
We were invited into the chiefly bure as a family.



We were joined by about 30 women and kids singing beautiful and joyful songs.


The boys were showing us their MEKE MEKE warrior performance while the kava bowls were circling around and being filled over and over again.

Within 2 days we felt as part of the village, friendly smiles and big hugs everywhere.

Categories: Fiji