After 2 days in the village we left our dear new friends and checked in at Waisalima Beach Resort. When Cyclone Mick hit the island, most of the Bures (Hütten) were swept away. Only 2 days later, Justin and Cheryl gave us a warm welcome.

Our "bure" was only a few meters away from the turquoise bay. A hammock in front of our new home was the perfect spot to watch the stars at night. Especially after some bowls of cava and the wonderful dancing and singing of the Fijian people.

In the morning we woke up from the sound of the waves or we slept until we heard the wooden drum, which let us know: breakfast is ready. Friendly smiles and a happy "Yandra" welcomed us at our breakfast table loaded with papaya and pine apple, muffins and pancakes, eggs and toasts.

Gentle winds and endless beaches offered the perfect setting for an unforgettable kite session. Gerry was crossing the lagoon while the three dogs at the beach were constantly barking at this yellow-and-green-object in the sky.


The kids loved to play with the four girls from Tulala, the captain of our boat and Napoleon, a brave Fijian boy, who was best friend with Robinson and Sienna within seconds.

For the kids it was paradise as well, they collected the most beautiful shells and build mobiles with shells, coral pieces, wood and fishing lines.

On Sunday, Tulala and his four girls – beautifully dressed in white – picked us up with a boat to go to church. We drove along the beautiful coasts to another little village.

Salomon, the minster and husband of chief Kelekele, was preaching with such passion, that even we got the message although it was in Fijian language. The rest of the time, everybody was singing with the most beautiful voices.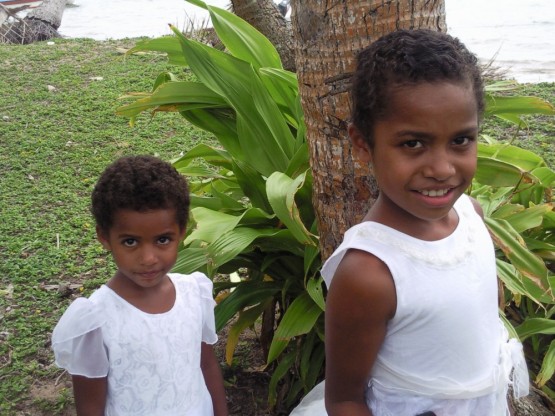 We spend the rest of the Sunday walking through lush gardens and the remote village of Sogosevou to a waterfall, where Fiji boys played in the water, jumped off the rocks and filled the air with laughter and happiness. From there we embarked to a wonderful bay, where we could see the most beautiful fishes snorkeling right from Vesi beach. The Astrolobe Reef definitely offers one of the best diving experiences in the world. Sienna and Robinson were also drifting over the corals watching the beautiful fishes, well equipped with life vests and goggles.
Back at the beach, Poli gave them fresh coconut juice and coconut pieces as snacks.
On the way back, Gerry was gliding over the glossy waters behind the boat on the kiteboard.

This was definitely a wonderful way to get around the island…

Finally, it was time to say good-bye to chief Kelekele and her family.
Categories: Fiji