Raglan
Raglan is known as surfertown with about 4000 people, in season about 10.000.
There are three world-class point breaks. Manu Bay is said to offer the longest left hand rides on the planet and featured in Bruce Brown's 1964 classic surf film The Endless Summer. Further along the coastline sit the breaks of Whale Bay and Indicators.
From the campground we could walk into the village, having a coffee in the kiteshop, meeting relaxed people, enjoying fresh organic food and ginger beer in one of the restaurants, where most of the guests seem to enjoy the waves somehow and everybody seem to have lots of time.
In the afternoon we checked out the kite spot at the harbour entrance with clean flat water conditions.
Although there was very little wind blowing (only 5 to 10 knots from the West), there were about 6 kiters out with 12 m kites. There is an explanation to the miracle: the outgoing tide ads up to 7 knots to the wind, which allows kiting at more than 250 days a year.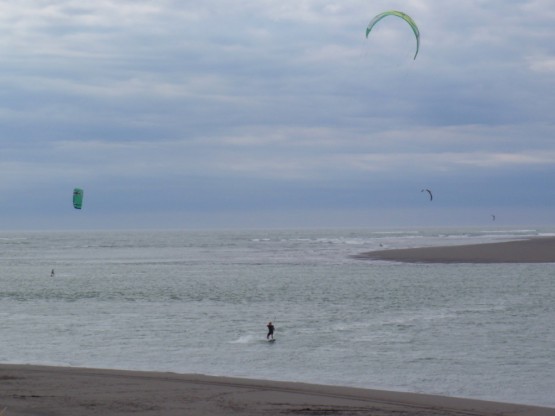 Later on we went to Ngaranui, a wonderful stretched bay with smooth waves rolling in. There were about 50 surfers, but there was enough space for 400…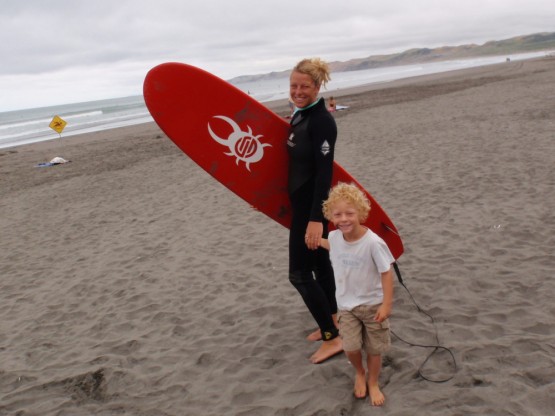 The people seem to enjoy life here a lot. Affordable hippie houses nestled into the hills with ocean view,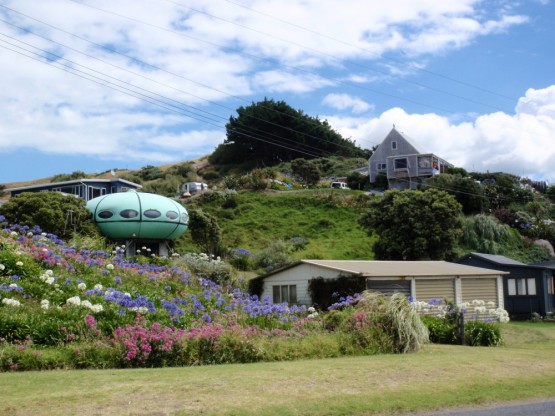 relaxed open minded people, nice cafes and restaurants with more life music than in most decent cities we know, organic food stores and alternative medicine, wonderful sunshine most of the time, endless non crowded beaches, kiting and surfing, an art school for the creative souls.
At least, if you see Olly Brunton, you believe that he is very happy here: work with great people giving acupuncture, kiting almost every day, enjoying lots of time with family and friends.
Is this all we need to be happy? It is worth finding out, what else really matters…Family, yes! Friends, yes! Job,… ?
Categories: New Zealand