We arrive in Vanuatu in Port Vila on the island of Efate and got welcomed by the local band playing lovely mellow songs for us, while the rain was adding its own water music melody. What we did not know is, that from January until August it is rainy season here, sometimes it rains up to six weeks straight. Although we forgot to note the name of the resort we wanted to stay in, it only took Gerry 5 minutes to figure out where we stay.
Every time, it is a surprise, if we book based on recommendation and internet pictures. This time, it was an amazingly great surprise. We arrived in paradise at Amanda and Mike's resort Pandanus Bay. We have a spacious house with the magic view of ocean and palm trees for the next three days.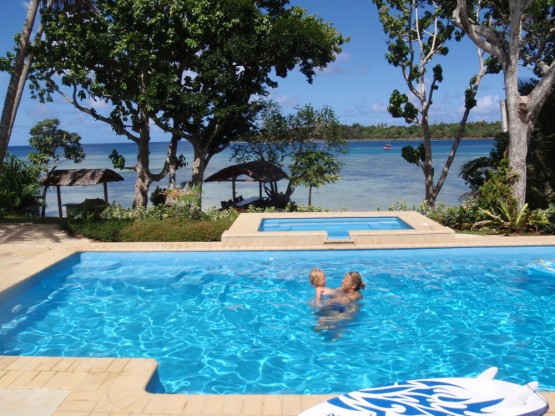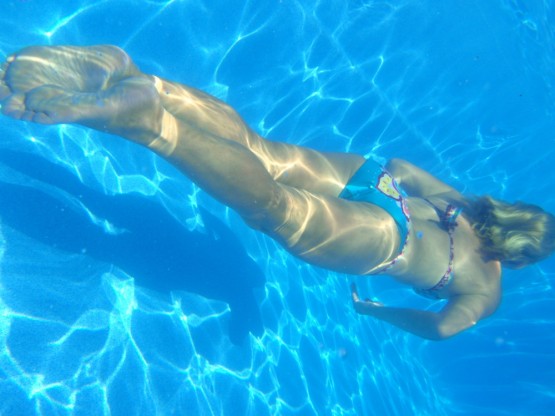 Especially at sunset and sunrise the colours of the sky with the silhouette of the palm trees calms my soul.

From our oasis we dive into the Vanuatu life. We take a minibus with our kite gear to explore the next kite and surf beach. Everything seems to be perfect: a light breeze and a smooth break. Playtime!
Pango is the major local surf beach in Vanuatu, and Thomas David has placed his surf shop strategically about 20 meters from this beach, and can rent boards of any size to you. You can only go around high tide, but then it is so much fun. Thomas is the most pleasant friendly man who will go out of his way to put a smile on your face. He has found his paradise.
I paddle out for a surf to the reef, where already about 10 Vanuatu kids play around. It was one of my most enjoyable surf sessions ever. Why? Because I experienced a very welcoming form of localism in the water. When I was coming, they were all welcoming me, calling me to sit right next to them in the water, cheering me up, when I got a wave and having big smiles after a good ride. No angry crowds, beautiful waves breaking outside the reef, beautiful scenery, this is what surfing was always all about.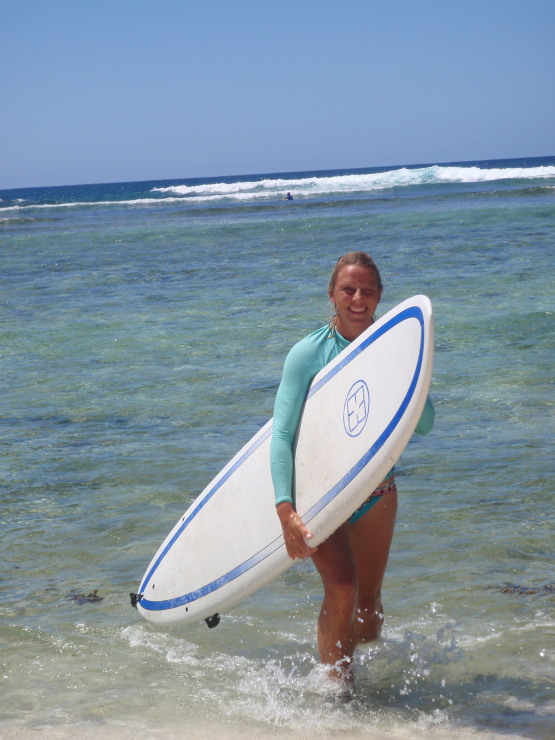 We meet at the beach the other local crowd which is from France, New Caledonia, Australia and everyone has a big grin on their face (long before the kava bars open).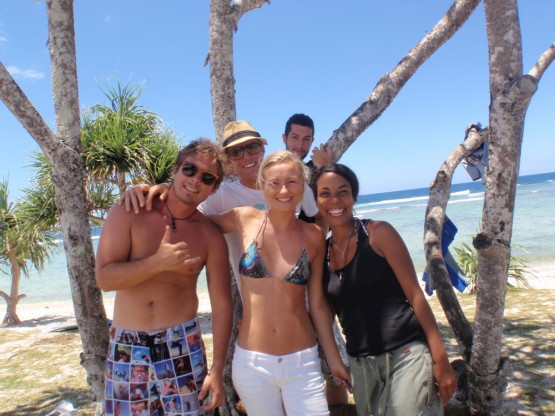 Even though the corals at the coast reminded us of our Fiji shore, where our kite was ripped into pieces, Gerry went out kiting in the warm water. Very soon, he played in the waves and reached for the sky with some nice jumps.
The Vanuatu people have a very relaxed living. They have their houses at the beach, live in community, have enough fruit and fish to live. They do not really need money. So if they work, they only do it, if they want to buy something. If they have enough money, they stop again and enjoy the life in their village. Why work more? They feel rather sorry for those, who have a job in a hotel resort, as they cannot enjoy the day.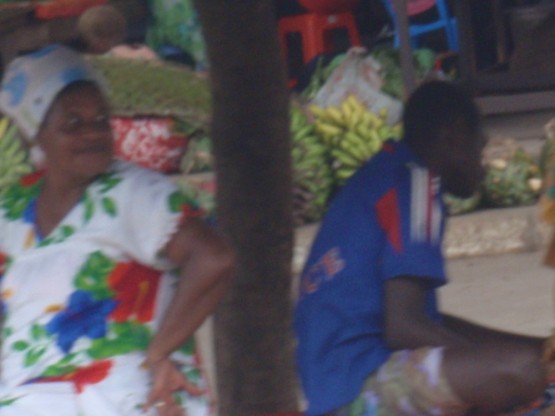 The people have almost African black skin and frizzy hair, that can be styled easily into a pumpkin-sized afro. And amazingly, you see again and again people with dark skin and blond wild hair, far wilder than what Gerry has to show by now.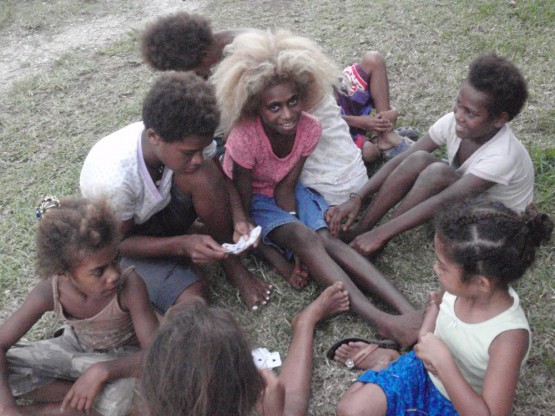 We have had another kite surfing session at Pango. I tried my best to get out, but ended up with my legs in the coral jungle, blood running from my knee down my leg. We just have heard the night before all the stories, how infections can lead to nasty things like amputations. So I spend the afternoon with the "save-my-leg-ritual":
– rubbing my leg with a luffa sponge and soap to clean it from any stuff
– putting antibiotics cream on my leg
– putting tamanu cream on
– keeping it away from water, sand and most importantly flies


The evening we were invited for a dinner party from Amanda and Mike, our hosts in the Pandanus Bay resort.
While the kids played with their grommets Emma and Kye, we listened full of fascination to the life stories of the people at the table, all "white-skin" residents of Vanuatu (there are about 5000 of them). Most of them have a long history on Vanuatu's different islands. While having delicious cheese they shared the latest gossip about Kate Blanchett being in town.
We moved from Pandanus Bay into a more price-appropriate location at the Le Lagon, which featured – among other things – three catamarans to cruise around the lagoon. From here we took for Valentine"s day a trip to the island of Erakor.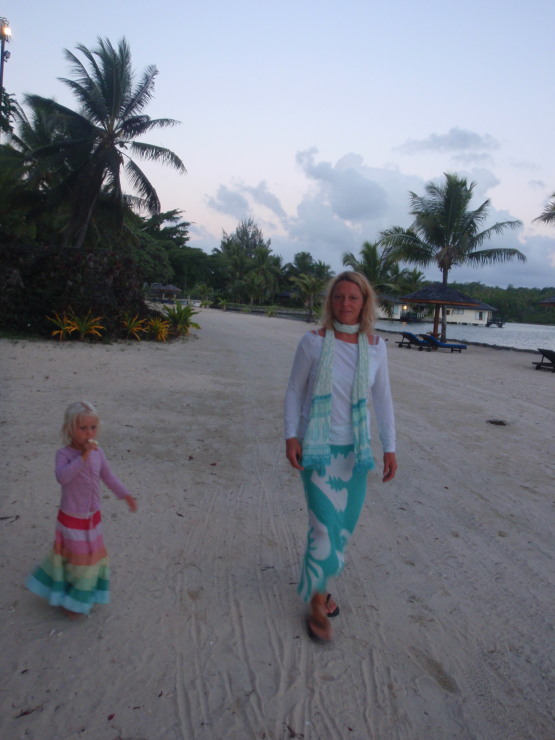 This is a tiny island with an authentic style restaurant and some huts to stay. Definitely a place for a big big party one day…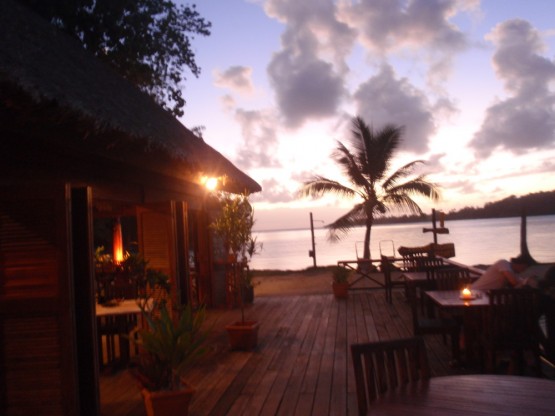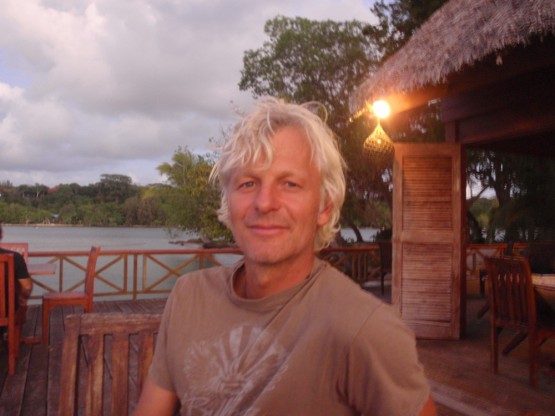 We found a great and much more leg- and kite-friendly beach, Mele Beach near the remote Hideaway Island: a beautiful sandy bay, where we have had a great kite session as the only kiters out in the bay.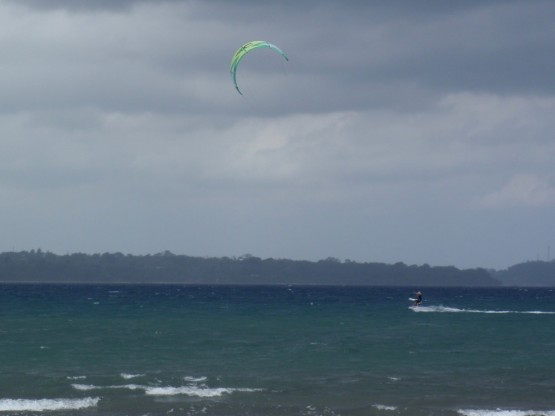 Port Vila, the main town on Efate, has an interesting mix of French, English and of course Melanesian influence. A busy market with Melanesian madrons offering their breadfruits, coconuts, bananas or pineapples, two Bon Marches for those with a bit of money to spare, and some excellent restaurants with French "cuisine" ensure that everybody has access to various food options. In the small restaurant next to the harbour, Cafe de Village, we felt a bit like in Cannes at LaCroisette sitting in a marine style restaurant and enjoying delicious French Soup de poisson, Crevettes au sambuca with a French wine and of course crème brulee and mousse au chocolat as desert.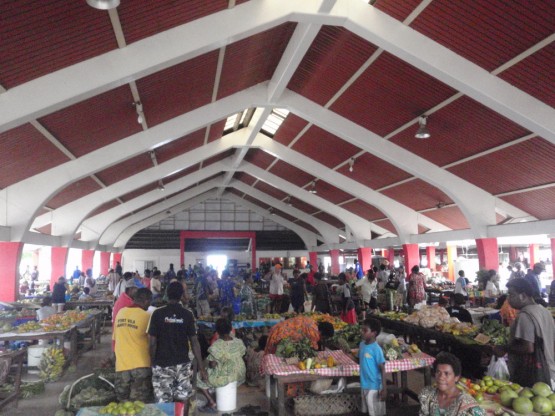 The people here speak Bislama which sounds a bit like a Frenchman speaking English (sorry Alexandre if you read this)
Yu stap go wea? Means Where are you going?
Men blong ski. Means SURFER
On Sunday we have had the pleasure to go on a trip around the island with our driver Timothy and 3 of his kids and his wife. They have 6 kids and one grandson, who will be raised by Melanie, the mother, as well, while she is still running her hair dresser salon.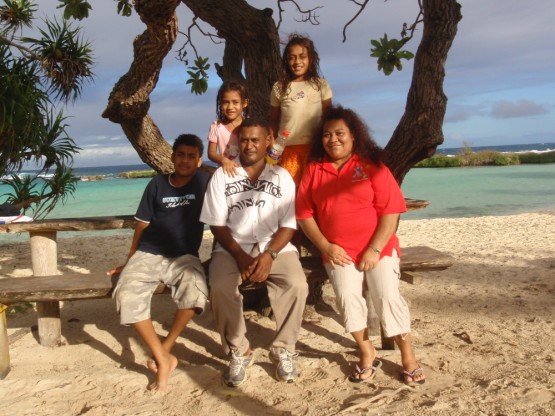 We hop into the minivan and the tour begins with some stops along the way: first we buy a big knife – bigger than any knife in our kitchen at home. Then we get some napkins, a roasted chicken, some baguette, some ice and some gas, until we hit the road. Along the way we buy coconuts, a pile of live crabs, two bags of mussels, as well as some fruits, fresh fish, fruit, nuts, … It appeared as if Timothy and Melanie wanted to say hello at every road stall they found.
After a kite session we passed some sight seeing highlights like waterfalls, the location of the TV series "survivor" and hot springs. The hot springs were so hot, that in the mornings you could find dozens of cooked red crabs in the water. In former time they cooked the pigs, and sometimes even the "long pigs", in these hot tubs.
All the land belonged to the different chiefs of the villages. Some chiefs started to sell land, others take some fees, if you want to stay at their beaches.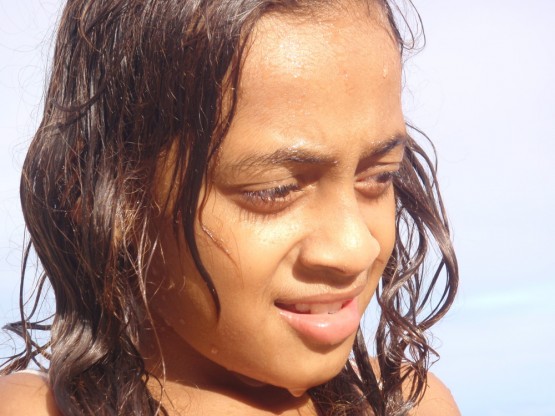 We stay at a beautiful stretch of beach on the East coast called ETON for an unforgettable picnic experience.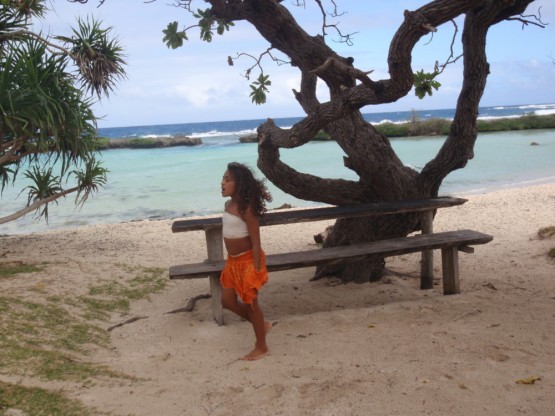 While we play in the turquoise lagoon, Timo gets the barbecue going and grills the fruits de mer.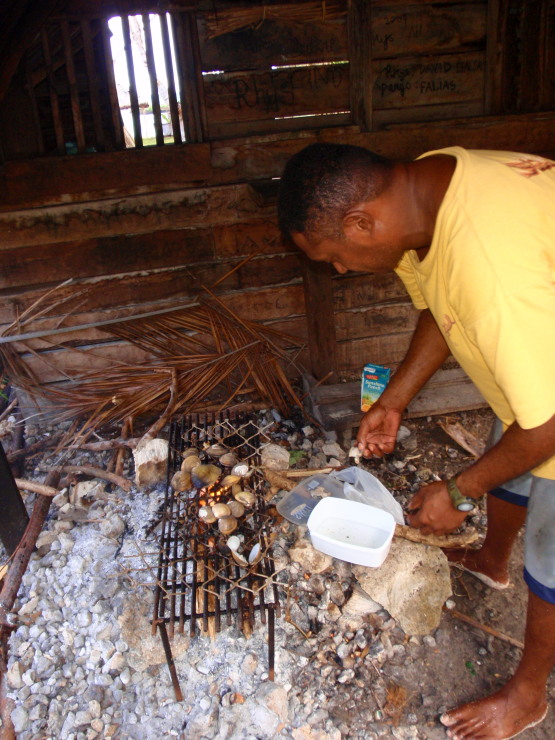 They serve us refreshing cold coconut water in the coconut shell, while our fingers hold the flesh of the juicy fish.
#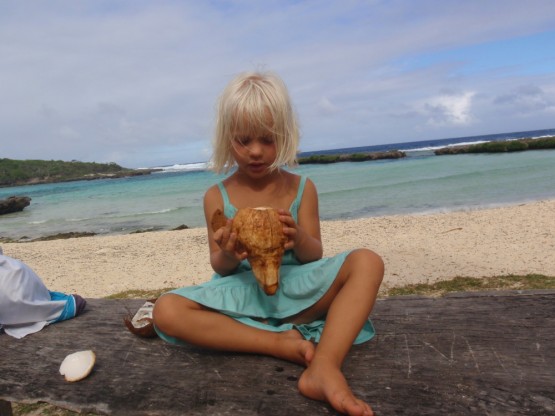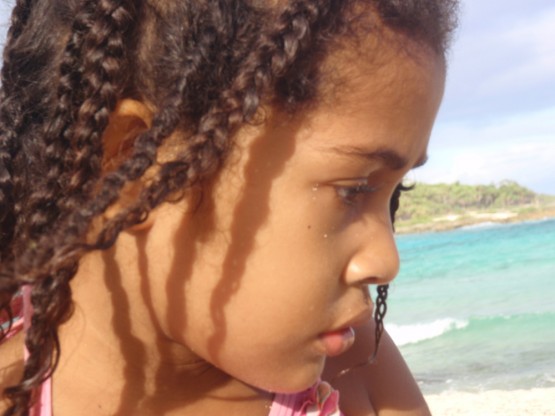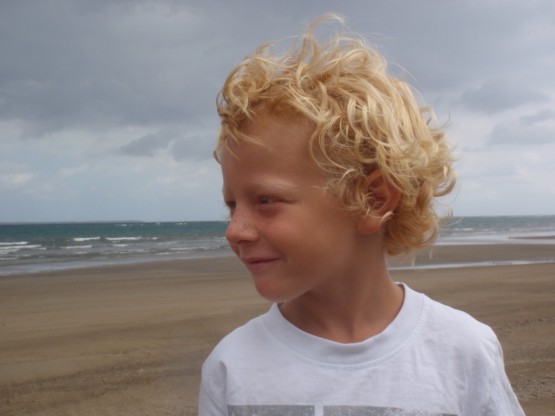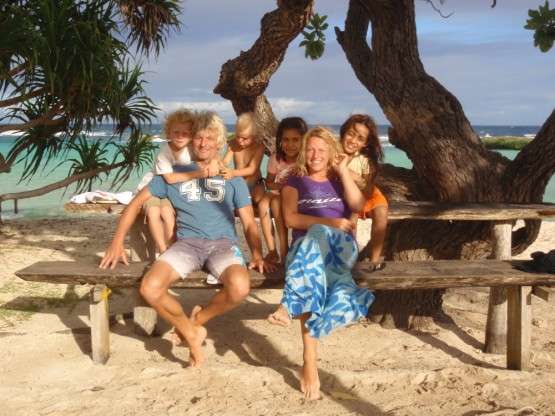 Categories: Vanuatu