Black Magic was an integral part of cultures across the Vanuatu and Melanesian islands. Magic men could make things happen by deep thinking and simple rituals. They could go both ways, good things such as rain and blessing for your marriage, and not so good things such as injury and poisoning. On the black magic tour we are treated rather nicely, but also experience some scary moments when the locals come screaming from the bushes with weapons or grab our feet from their hiding places dug into the ground. Surely, James Cook and other explorers must have been fearless to survive encounters with magic men jumping at them from the bushes.
The master magic man welcomed us to his site in his local outfit, which makes him blend nicely into the forest. A strong man with a big heart and a friendly smile, we felt the aura he emitted.
At first, our marriage bond was checked, and we survived the test and received a blessing for our life together.
Then Robinson took a big leap of faith by trusting two guys to lift him up just by holding on to leaves laid out on top of each other, no ropes or other solid stuff, just magic:
The family of magic men casino online performed a magic dance for us, very drum-driven and tribal. We were not quite sure what it did, it must have been fresh rain or a big fish in the net or maybe just the eternal love of the local girls who were waiting to become a woman (it was not a new car or Ipod or flat screen TV, we know that for sure).
Soon, I was invited to share in the dancing, and after some stomping the group decided to let me be chief for a while. Within minutes I was given a traditional look, although they were not quite sure what to do with my hair (I sometimes share this feeling). I was given the chief's stick, and all magic men followed me through the magic zone around the massive banyan tree, to the little hut where I was given a bowl of kava to symbolize being welcomed by the magic family.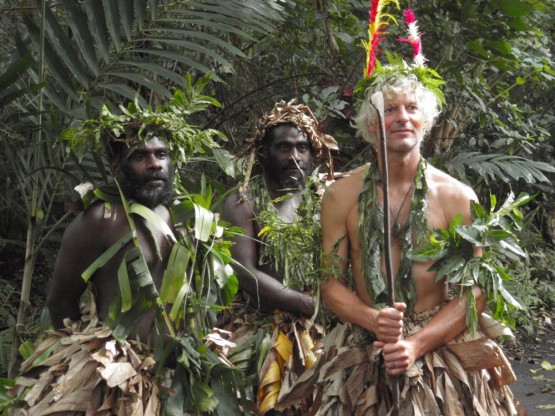 Following some happy tunes – they called this string music – I was relieved of my chief duties and we headed back once again to our village just in time for a sunset swim in our own little bay.
Categories: Vanuatu