Byron Bay grew significantly over the last 10 years, and has now about 20,000 permanent residents, but more than 2 million visitors per year. The town attracts a very appealing mix of people: artists, hippies, granolas, surfers, ….. And it offers everything I dream of: open minded people, fantastic surf beaches, organic food, yoga, great healthy restaurants, great designer clothes, inspiring concerts, great schools for the kids….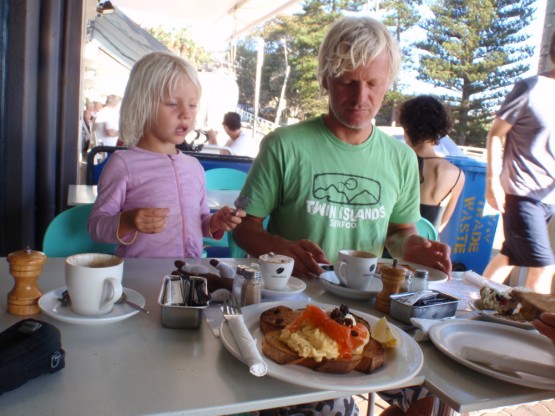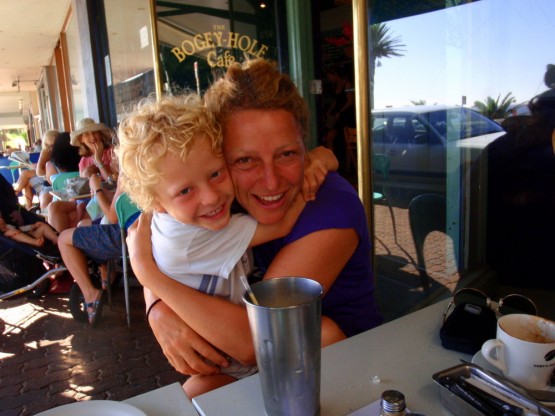 It is hard to find reasons, why not to live here….
We stayed on a campground on a spot with a stunning ocean view and a 2 minute walk to our favorite surf break at the point. When we first got into the water, the current was pulling almost our feet away….After watching the locals for a while, we understood the spot well enough to love it. We spent our days riding the endless days on a Mark Richards 6'6'' fish, our 7'6'' minimal, and a 9'1'' longboard. Robinson rode hundreds of inside break waves on his 6' foam board, while Sienna bodysurfed or danced at the beach.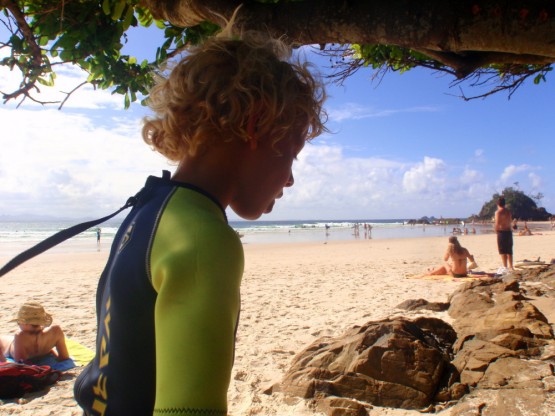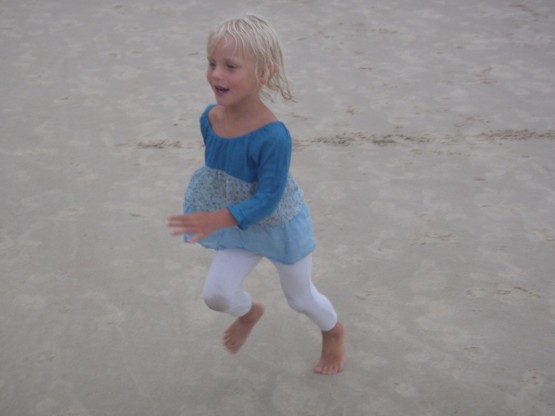 Some people say, it is too touristy now, but the tourists help the locals to focus on their passions and still to earn some money to live here. We meet recent immigrants from Italy, Brazil, the Netherlands, they all have chosen to live here and are grateful for the wonderful lifestyle and community. Those, who like it calmer, shift towards the mountains to e.g. Bangalow.
Only 45 minutes away at Coolangata is the Quicksilver and Roxy Pro Surf Contest with the best women and men surfers of the world. I was already a believer in Kelly Slater, but when I saw him in person, I could feel his magnetic aura, got caught in his compelling energy.
Surfers are just fascinating with their healthy and grounded look. We arrived just in time to watch the men's semis and finals and Taj Burrow from Western Australia beat Jordy Smith in the final, while Stephanie Gilmore dominated the quarter finals in the girls at her home break.
Thousands watched on the beach and reef rocks and cheered the best surfers of the world on as they effortlessly took off on the largest and steepest waves and played in them forever.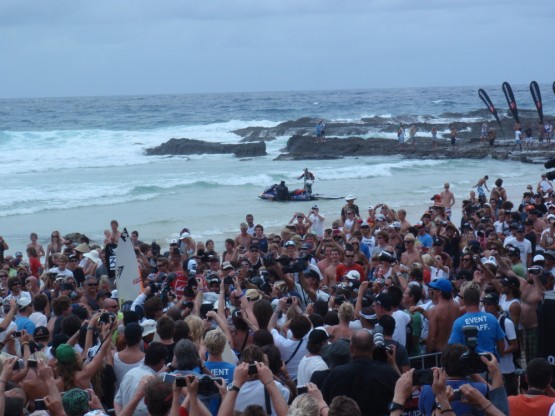 After 10 days it was time to head back in order to catch the plane in Sydney for our next mission.
In the afternoon we checked into a Hotel in Sydney right at the airport in order to catch our early flight to Perth the next morning. We spent the afternoon just around the corner in Cogee, one of Sydney's great beaches, with some amazing rock pools. It was hard to leave, I truely enjoy the feeling here at the Eastcoast, but this is part of travelling: opening up for the unexpected and letting go…
Categories: Australia Eastcoast