After several days of city life in Perth, we head north for another couple of weeks of beach and solitude. We drive up the coast to Cervantes, about 270 km north of Perth.
This township was named after a whaling ship that was wrecked along the coast in 1844. The main attraction in the area is Nambung National Park, also known as "The Pinnacles" because of its spectacular and unique rock formations.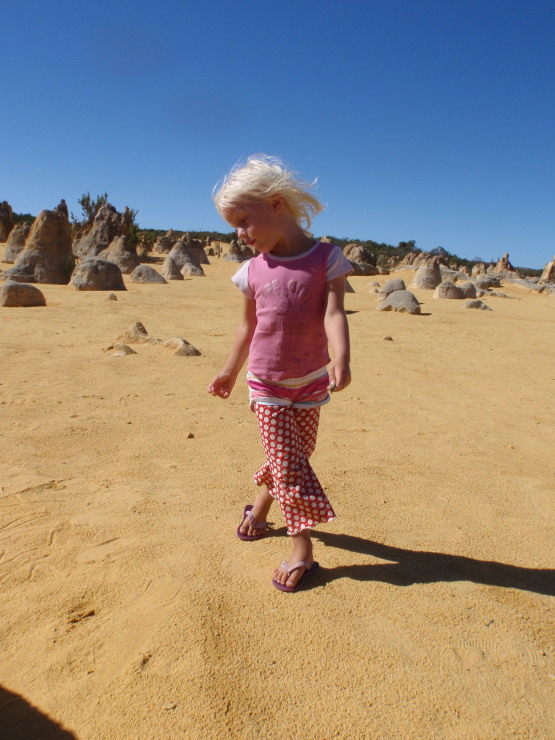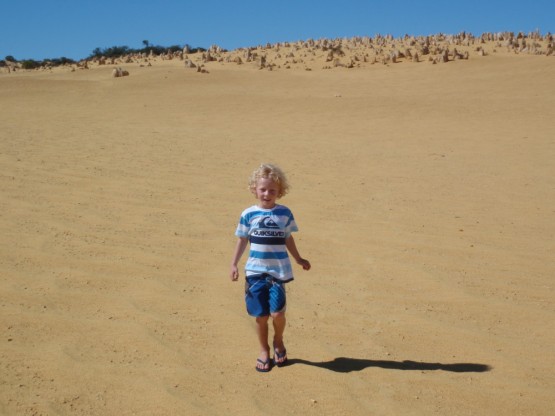 We stay in a backpacker, where we enjoy ocean view. Cervantes has pristines beaches perfect for kiting. Unfortunately, it is not the windiest time of the year, so that it is just enough for Robinson to play with his little kite.
From Cervantes we go along the coast to Green Head. At the outlook Point Louise we found a beautiful wave, where seals played with Gerry in the waves.
Here in the solitude, someone put a picnic table for us right next to the beach, where we could wash off all the white sand.
A little bit further inland, we saw the whitest dunes we have ever seen – only touched by the footprint of some birds.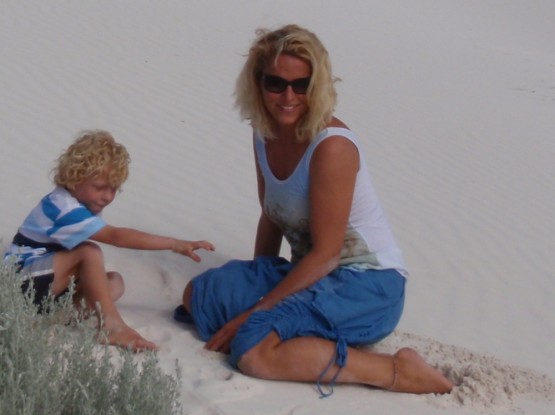 In the evening we arrive in Dongara, one of these little towns, where people make money with crayfish and abalone.
Someone put a couple of swedish houses on top of the dunes with a stunning view of the bay. What a great spot – our new home for the next days ( http://www.dongaratouristpark.com.au )
Right in front was this wonderful bay where Gerry and Robinson played in the waves. When we ask in the evening "what was the best thing of the day?" Robinson answers day after day after day:"surfing"….
And after a good session, the two boys talk about their biggest wave, their longest rides and their coolest tricks. What else?
Sienna loves the time at the beach as well. She is collecting shells, arranging them to little fishes, flowers or "somethings". And she flys with her "goobieboad" through the whitewater onto the beach.
Categories: Australia Westcoast