As we are getting close to our next Indian Ocean adventure in Mauritius and need to catch our flight from Perth, we start heading South again, to the cute little ocean town of Kalbarri, which offers great accomodation, cafes, fishing, sailing and hiking. By now, Robinson is stearing the hobiecat easily by himself…
Coming down the coast we passed Jake"s point, something for the very experienced surfers….
Just South near Port Gregory we pass a lake that is completely pink, full of yummy beta carotine.
In the evening we went to Coronation Bay, one of the famous kiting and surfing spots at the Westcoast. We have had perfect wind cross onshore. Kiting Coronation Bay offers a great lagoon and some major waves at the outside.
We stayed at the Ningham farm with plenty of kangaroos, ponies, austriches, rabbits and kissing parrots etc. Robinson and Sienna were busy feeding all the animals in the morning with hay, bottles of milk and some grains.
On the way south we try to find Drummonds Beach near Geraldton, another famous surf break. In the little town we talk to one guy, who offers to bring us to the spot. When we asked him, if he really has time, we get this big smile and comment:"Do I look flat out or what?" This says it all, people are relaxed and welcoming. At the beach, we watch the waves together with some Aussies, who then invited us for the evening to stay with them.
From there we went to Lancelin, which we still knew from our last Australia trip in 2001. Lancelin offers endless sanddunes to play around on sandboards and endless beaches with some terrific waves.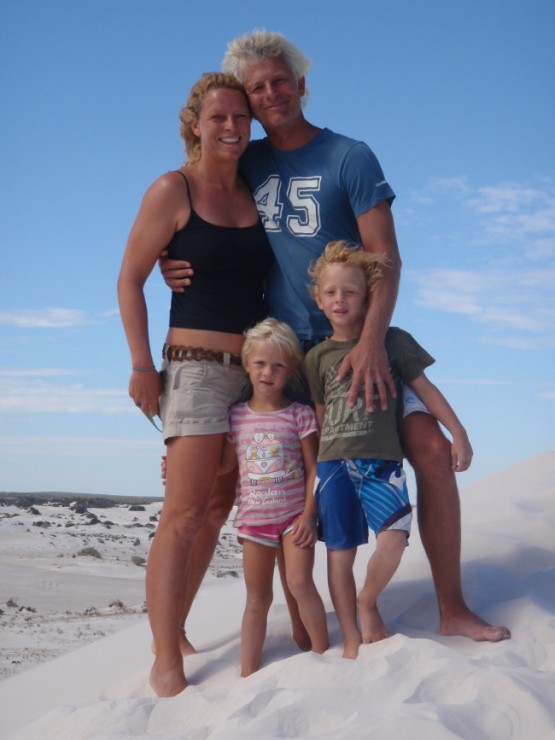 One more night with our friends, the Cafe Ventnor Party Crew, and we say goodbye to this beautiful part of the world. We are very thankful for the sincere hospitality we have received for over 20 years now from the Duffy / Margaria clan in Western Australia, and in fact many other places on this planet. Bye bye for now, Australia…
Categories: Australia Westcoast