Kiting in La Reunion offers definitely more challenges than on Mauritius. Besides a very shallow reef, most of Jean's friends have had at least once sea urchins stuck in their arms, feet and bum…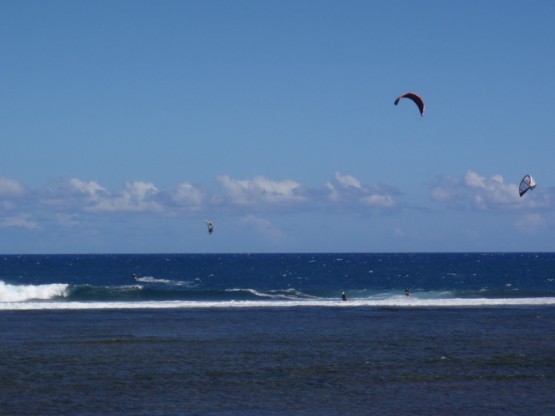 Jean is amazing. He goes surfing everyday possible and then goes kiting later in the afternoon. He is the one waiting for Gerry at 6.30 in the morning to go surfing at TroisBassin or in St. Leu. St. Leu is one of the most famous waves in the world. It is also one of the more challenging ones as it is a rather shallow reef break… Gerry went out and slowly but surely made his way into the line-up to get rewarded with some unforgettable rides after some also unforgettable "washings".
Jean is not the only one rather extreme, it seems to be just the normal way of living here. There is Bloody, who goes surfing, kiting and parasailing- and enjoys the beautiful girls de La Reunion. They seem to live to enjoy and play every day.
Bloody made a very special present to us: he offered to take us on a tandem flight over the bay of St. Leu. He participated in world competitions and flys since more than 20 years. Robinson absolutely wanted to go and got ready.
Then it was my turn to fly like a bird. And honestly, I trusted him. Everybody knows Bloody and what an experienced guy he is. But at the end I just knew, that these blue eyes must belong to the best parasailing guy in the world :). And I promise, I did not have time to be scared…
It was amazing to fly down the mountains and over the turquoise bay with the perfect waves. We followed the birds, that played in the thermal winds and got lifted up several hundreds of meters.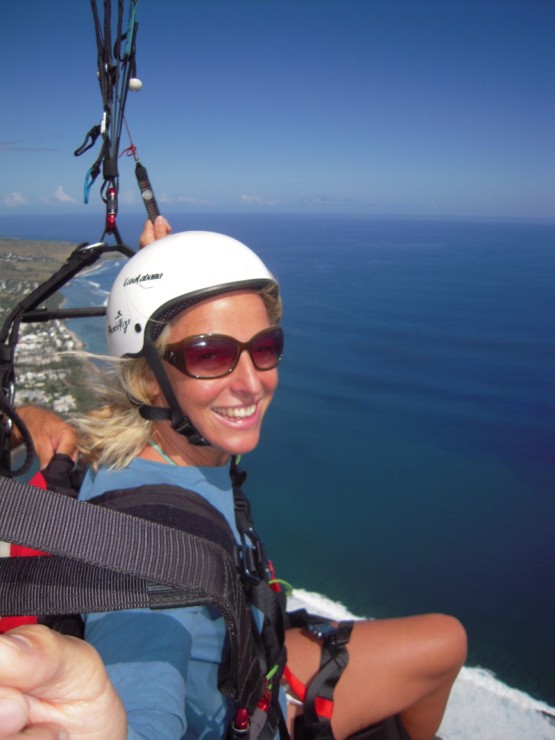 Later on Jean invited us to his house for dinner. We are overwhelmed by his hospitality. He picked us up and we enjoyed the sunset on his terrace overlooking the mountains and the bay.
What a great place to enjoy Jean's juicy dorade with chou-chou-gratin.
Categories: Reunion