The Hotel Tamarin is very special. For a fraction of the price of the surrounding luxury hotels in Flic en Flac and Le Morne, we get lots of colour, music every night, great rooms, a great spirit, very friendly staff, a kids club, and an eclectic mix of guests. The mix constantly changes, and includes all age ranges, surfers and kite surfers, families, lazy sunbathers, retired travelers, artists, DJs, business people. All other Europeans are from France or England, the rest are from South Africa, Reunion and other parts of Mauritius. I love the look and feel of the hotel, with a great pool to play in:
Our mornings start with painting sessions given by Deeljeet Heerasing, a very inspiring painter from Paris with Mauritian roots. Sienna and Robinson love it and have turned this into a daily post-breakfast routine.
Then it is off to the beach right across the street, where we play in the waves until sunset.
At dark we eat the yummy creole dishes and then watch the show. One evening we watch a Mauritian band with dancers. I must say that this is the best, flowing, enticing dancing I have seen anywhere on this planet. Those girls know how to dance! It is very hard to define what makes it so special. It seems like a mix of Tahitian gentleness with Carribean temperament and Indian grace.
Then the dancers take Robinson onto the dance floor, and he stands there mesmerized by all the girls moving around him, including his favourite beauty, the 8 year old Emanuelle from Reunion.
Exhausted we fall into our beds:
There is plenty to see and do in Mauritius. Just driving around the island and watching the life in the street gives you a great impression of this unique island. Heading South the first sight is beautiful Le Morne Brabant:
Along the South Coast the beaches offer spectacular colours.
No need to pack a lunch as there is food everywhere on the island. Our favourites where samosas, passion fruit pudding, coconut balls, and coconuts to drink and eat.
Driving up high into the mountains we get to the largest Hindu temple site on Mauritius at Grand Bassin. We get immediately ushered into the first Shiva temple, make an offering, and get a blessing in form of a red dot between the eyes with two lines going upwards. The gods are colourful and rest peacefully on the edge of a large lake.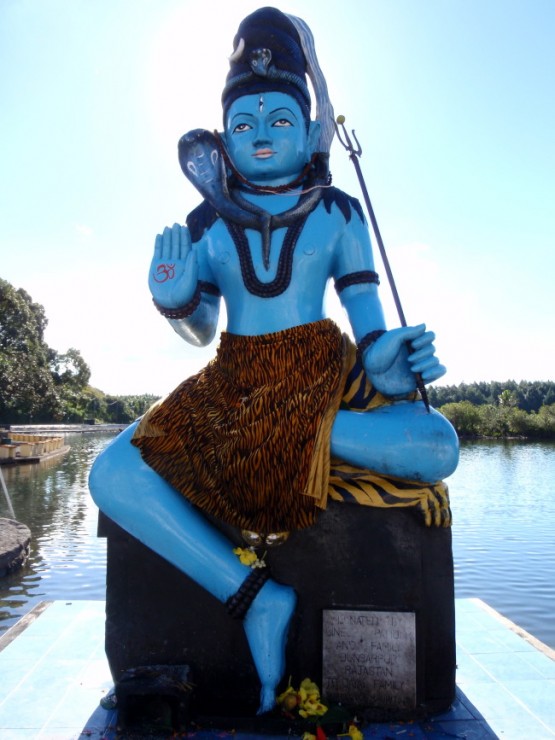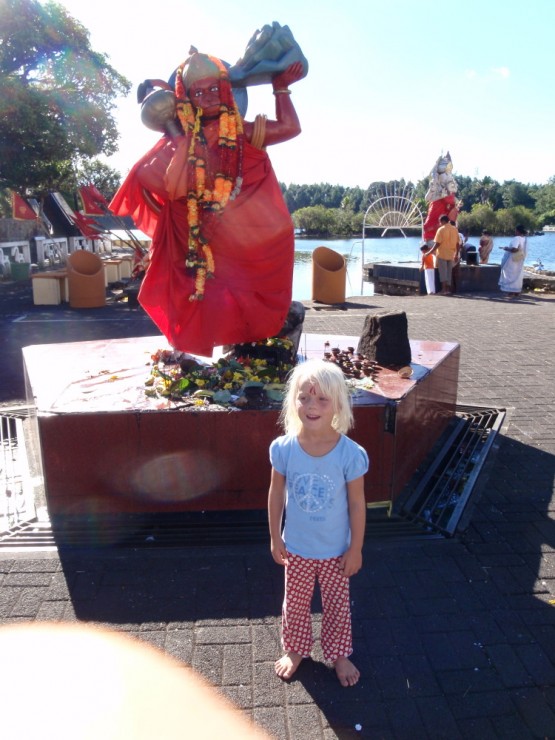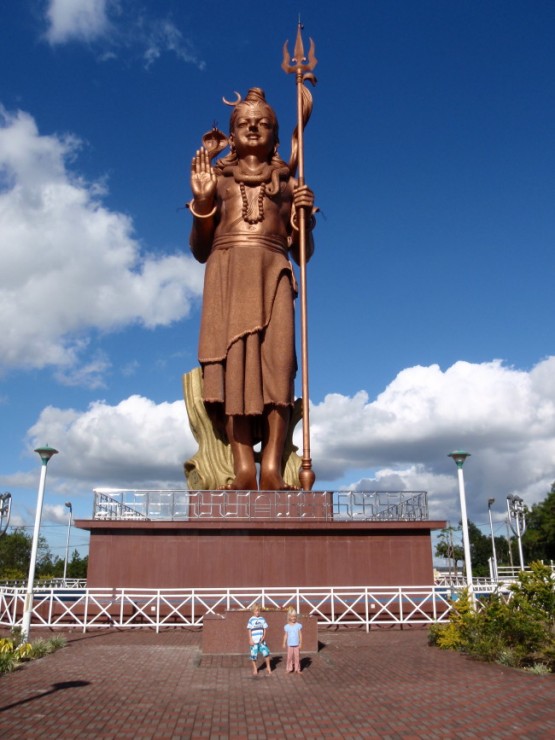 We pass along Chamarel where thousands are picking wild guavas in the bush. The mountain sides are lush and green. And then there is another one of these large palm trees. But beware: these are not palms, this is some engineers dream of disguising mobile telephone masts in the tropics (we have seen them on other islands as well). They are easy to spot as they are the only palm trees that are dead straight.
Near our hotel are Les Salines, the Mauritian salt works, where we learn all about salt production and of course the champagne of salt, the local fleur de sel.
Nearby is the Casela wilderness park with a very large collection of parrots, tortoises, and bush animals. A special attraction are the lions, who you can also visit in their fenced-in areas and you can even walk with them. The only hook is that you need to be 150 cm tall, so a no go for the kids. And we quickly find out why. Lions rest for 20 hours a day, and they typically walk around quite mellow. This is why, as Cedric the lion trainer explains, people can go visit them. However, their mood can change within a fraction of a second to a very focused and fierce hunter, rapidly moving in with all force for the kill. Sienna stands at the fence and a female lion standing about 20 meters away turns around, spots her, and dashes at full speed straight for the fence, stops just a meter in front. I must say it scared the hell out of me, it was an amazing sight. Cedric explained that with her blond her she does not look human to the lion but much more like some yummy prey. Lions are majestic animals, and this day gave me extra respect!
The giant turtles are larger than Sienna, and much much older!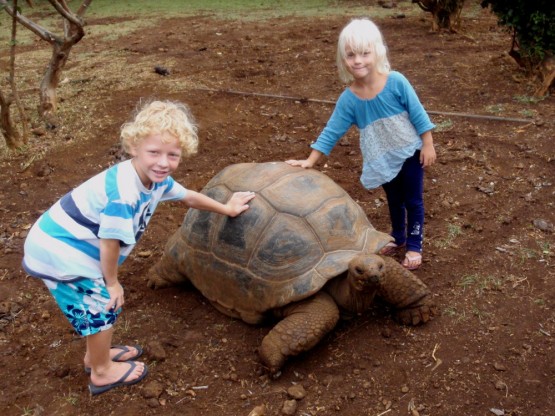 Sienna and Robinson catch their first fish and release them back into the pond.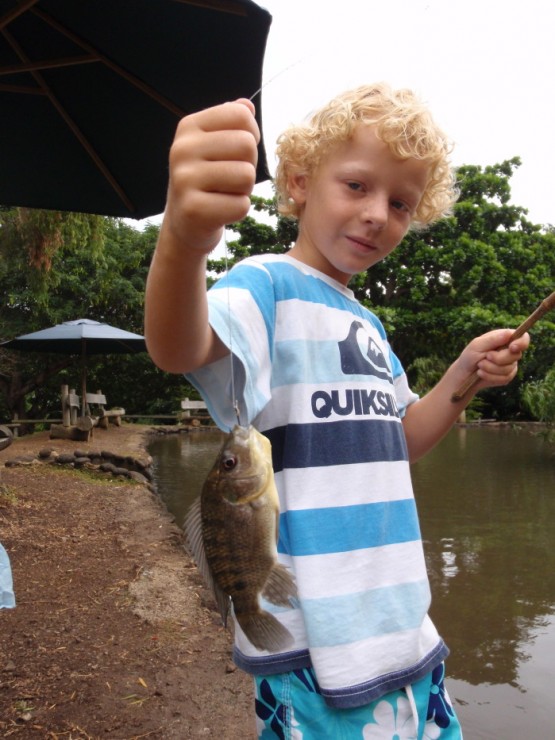 The next morning it is time to say good bye to Robinson's new friends, the crew of 8-year old beach girls from Reunion, Emanuelle, Tiphane and Chloe.
Categories: Mauritius