Rodrigues is an island, that we know very little about, but the little we know is exciting: some people say it is paradise, some say it is the best kiting in the world, some say it is very very quiet – at least we arrive with 3 different kites and a variety of swim suits….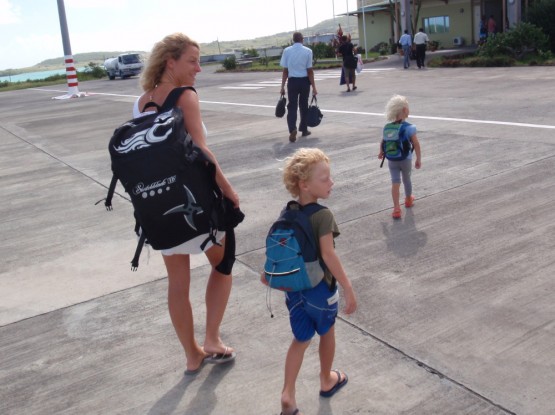 Rodrigues was discovered by Diego Rodrigues, a Portuguese explorer, in 1528, when the island was a nature paradise without any humans. Subsequently it was visited, inhabited and exploited by the Dutch, French and English. Colonizing went very slow, in 1826 the island had 123 inhabitants. In 1968 Mauritius became independent and Rodrigues became one of its districts. It was not until 1970 that electricity was made available to houses of the 40.000 inhabitants.
It has a size of only 100 km2, surrounded by an amazing lagoon twice as big.
The island provides an amazing environment for sustainable living: a warm humid climate year-round, no dangerous animals, a large variety of vegetables and fruit, and plenty of fresh water. Approaching the island on the 72 seat ATR, we get a first idea of the beauty of this incredibly big turquoise lagoon surrounding the island.
We have booked in the Cotton Bay Hotel, a beautiful hotel with the old charme from ancient times filled with the friendly atmosphere of the Rodrigues people.
The Rodrigues people are mostly descendents from Africa or Mauritius and Madagascar, they consider themselves to be Creole. You feel a wonderful friendliness, open smiles and laughter.
In the bus I quickly get reminded that we all live in one world and we are connected. In front of me there is a guy wearing a hat with the logo "Nette Menschen trinken Kuemmerling" (nice people drink Kuemmerling – not my favourite herbal alcohol), clearly a hat from some German who got lost on this island.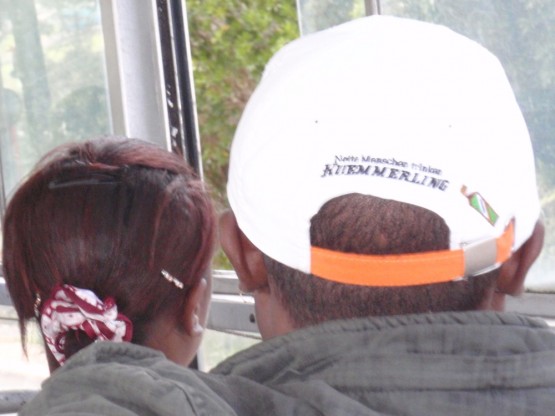 Compared to other remote islands, Rodrigues seems to offer the people a great life: almost everybody has a cement built house, roads are built and public buses connect the different corners of the island, school is free and available for everybody, there is enough to eat for everybody from agriculture or the ocean. Rodrigues even holds 3 deep sea fishing world records, e.g. a 561 kg Pacific blue marlin.
For us, the beauty of the ocean is beyond everything we have seen so far. We spend our days with Willy and Nathan, the local kite boys, who take us out to an amazing downwind kiting trip along the waves at the reef to the remote Ile de Chats, where they prepare fresh fish on the barbecue for us.
There is so much wind that we are glad to have our new 6 m2 kite with us. Kiting becomes even more playful and addictive than it was so far.
The landscape behind our hotel looks a bit like the Scottish highland. We climb the local hill through high grass weaving in the wind, with goats all around us.
We asked an airbus pilot from Paris who also spent two weeks here with his wife and son why he came here and he nailed it on the head: "to clean my head". Life is slow and pure, I love the solitude…
Categories: Rodrigues