One year by the ocean, 25 flights and 50000 miles flown, 4000 km driving on US Pacific Coast, 5000 km in NZ, 3000 km on OZ East Coast, 7000 km on OZ West Coast, 10 countries, 15 islands, over one hundred different beds, hundreds of beaches, thousands of animals on land and in the water, 1 pair of jeans each, 3 pairs of flip flops, 100+ surf session in 50+ spots, 100+ kite sessions in 30+ spots, 8 razor blades, thousands of pictures, many fellow Earth citizens with positive energy and spirit, and countless moments of pure bliss, happiness and smiles.
For me it was the most amazing experience, and I am extremely thankful for every day I have had on this adventure. It gave fresh strength to my love for Gesine and bonded us immensely as a family. We have tried to show the kids new worlds and what we believe is important, such as being tolerant, humble and kind, respecting our planet and being proactive in saving our planet from ourselves. We have made efforts to give them roots, soon they will need wings to fly.
Most of our days were filled with some sport activity, time on the beach, bliss, smiles, love, talking with new found friends, reading, writing, thinking. Things weren't always great of course, but it is hard for me to remember a handful of worst moments. Here are five that come to mind:
WORST MOMENTS
Losing a five figure lump of cash to a scam artist for renting accommodation via the web site vrbo.com
3 rats dancing all night above our heads in the ceiling rafters
Stepping on a sea urchin at Tamarin Bay and having one spike removed at the local hospital
Losing our wallet in the taxi to the airport in Vanuatu
Hitting a tree and parking meter with the rear end of our 29 foot motor home in the Pacific Northwest
There are so many thoughts, impressions, moments, images in our heads, which makes it very difficult to narrow the experience, mood, beautiful moments down to a few paragraphs or pages. We honestly do not have an answer to the question: "which was the best place you visited on your trip?" Although there are plenty more that come to mind even as I write these down, here are some BEST MOMENTS from an unforgettable year with the love of my life and our two little happy souls Robinson and Sienna.
BEST MOMENTS
– The stillness of the Piton de la Fournaise volcano on Reunion Island. We arrived at sunset, stayed at a mountain hut, watched the Earth wake up just before 6, hiked across Plaine de Sable, looked at the amazing gorges, travelled through pastures with cows that resembled the Swiss alps, and were back at the turquoise tropical lagoon just 30 minutes later
– Earth creation on the East side of the Big Island in Hawaii. I traveled at 4 am with a catamaran to watch the lava flow in the ocean, only meters away from boiling explosions.
– Kite surfing at Little Lagoon at Denham / Shark Bay. A perfect almost round turquoise flat water spot at what seems like the beautiful end of the world.
– Morning sessions at Lanikai Beach in front of our house. We would start with sunrise yoga followed by a swim, often with a green sea turtle, greet the morning people welcoming another day in paradise, enjoy our papaya with lemon and mango, and plan our day of reading / writing / kitesurfing / surfing / paddling.
– Snorkeling the Astrolabe Reef – the second largest reef on the planet – at Nagigia Island just West of Kadavu, Fiji. Never seen so much colour and beauty under water.
– Big sunset smiles on the terrace of our Blue House in Rangiputa, Northland, New Zealand. We would kite all day in one of the most beautiful kite bays in the world, eat fresh fish, enjoy the solitude and beauty
– Cooking fresh paua (abalone) on the beach just South of Kaikoura, South Island, New Zealand with Anneke and Anthony. We had picked them fresh of the beach at low tide after a surf session and prepared them with butter, garlic and lemon at sunset with our new friends, our camping neighbours from Shipwreck Bay at the very top of New Zealand's North Island. Pure magic.
– Trance dancing at the Luminate music festival at Canaan Downs, Motueka, South Island New Zealand. We camped with 2000 rastas on a crystal mountain and enjoyed healing, play, drum fire dancing and lots of great music on two stages in a beautiful forest setting for five days.
– Playing in the waves and feeling the energy at Byron Bay. For all the hype it has been getting, it is still a magic place with a special energy. Just take a cross-section of the tourists that go there, it will be a challenge to find that anywhere else in the world
– My first tube ride in picture perfect conditions at Conspicuous Bay near Walpole, Western Australia. The most beautiful bay with white sand, turquoise water, a small creek, cliffs, 2 guys out, large swell and offshore wind.
– Sitting in front of the fire at The Cove's A-Frame after a day of kiting or surfing at Ocean Beach. The massive house is built entirely of wood and sleeps 25, it felt like our little kingdom. We were blissfully exhausted after a day of playing at beautiful Ocean Beach.
– Surfing the left at Tamarin Bay in Mauritius on a picture perfect day at sunset, with a full view of the lush green mountain that looks exactly like the little Matterhorn
– Drinking kava with the Fijian chief and elders in the Nakasaleka ceremonial bure, listening to the boys sing beautiful songs all night long, dozens of children playing outside by the river with Sienna and Robinson
– Eating, drinking and playing for a week with a group of madmen at Bunker Bay, Western Australia. We were hanging out in a massive house right on the beach of this true jewel bay of the Margaret River region, with Jason the chef creating one culinary delight after another and the Duffy / Margaria clan ensuring that the crowd was entertained day and night
– Feeling the deep rumble of Mt. Yasur, the world's most accessible active volcano, on the island of Tanna in Vanuatu, explode with red lava, just meters away from our viewing spot at the edge of the crater
– Happy surf sessions at the Pango reef on Efate with 20 Vanuatu local kids
– An amazing downwind lagoon and wave kite session in the "skate park" from Mourouk to Ile de Chats on Rodrigues, in one of the most breathtaking lagoons in the world, followed by a lunch cooked fresh over a fire on the island
The last day of our trip was a manifest of what I enjoyed so much on this trip: Swimming with 10-20 dolphins in the blue blue ocean of Tamarin Bay, just meters away from these beautiful creatures, playing with them in the water while they swim below you, beside you, in front of you. This was followed by a soulful last 2-hour surf session at the Tamarin reef break. All day was full of love with my family.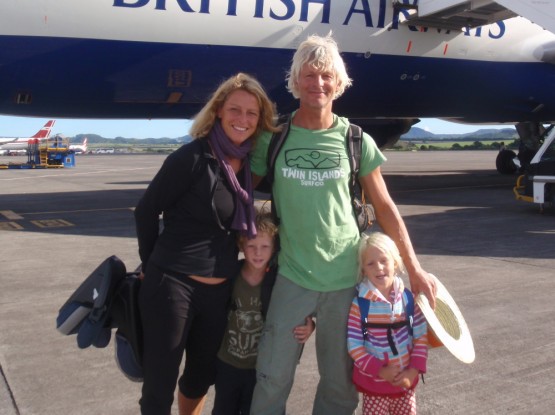 I felt alive every moment of this trip and am very very thankful.
Categories: Le Grande Finale