Then we arrive at night in Barbados. Warm wind and the contagious smile of waterman Brian Talma welcomes us. His eyes are a captivating shade of water turquoise crystal blue.
Arriving at DEACTION Silver Sands we feel already the vibe of this very special place…. http://www.briantalma.pro/deaction-beach-apartment/
We feel like in paradise in our Caribbean beach hut. In bed we listen to the wind and waves, from the terrace we see the kiters playing in the turquoise ocean.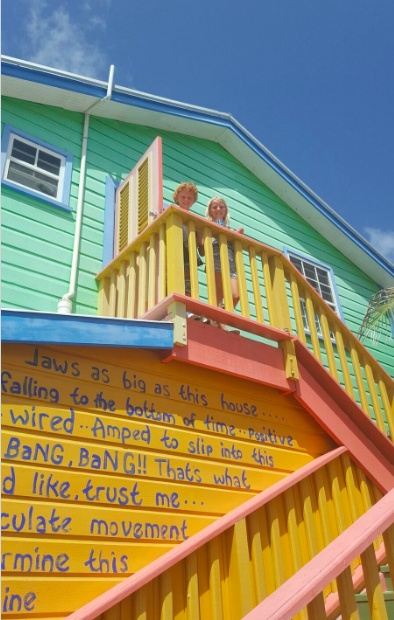 Brian has created a true soul spot for a community loving the ocean, nature, art and music. His art is everywhere, his writing on the walls sets the spirit for a community, that cares. 
Brian, known for his amazing windsurfing career, is a real family man with 5 kids with the beautiful names Sunshine, Starlight, Ocean, Rainbow and Lion and a man of deep values.
"Action Man" smiles most of the time while working on "De Action Shop," his line for Chiemsee clothing and continuing his beach culture world tour. In 2000, Brian along with David Kirton created the song "Irie Man Action", which allowed him to use another one of his well-honed passion, poem writing.
In his booklet "Beach Culture: A way of life", Brian recalls his first memory in the sea as riding on his father's back.
He shows us the true meaning of the word "action" which he uses every other breath. "We are all searching for passion," he notes, "with life if you don't have passion, you are not living."
Categories: Barbados, Mindful Tour 2016