CUBA is fascinating as an example of communism in a Caribbean setting. When talking to people before the trip, most of them loved it in a way, but said it was exhausting.
There was even Rolf with a kite school, who told me that the kite school is closed and that he spends the summer in Germany as the weather is unbearable….
Landed in Havana, we try to get a feel for the country. Everything looks like in the 50s. The look of the airport officials definitely is different from all other parts of the world we have seen: the girls where a brownish uniform with extra short skirts, black net stockings and high heels. The picture gets its final touch by very red nails and lipstick… While waiting for our luggage we realise that everybody uses the luggage allowance to its full capacities. Lots of tyres and air conditioning units are circling together with the luggage. It looks like the Cuban supply chain is depending on the individual efforts of each person.
Havana is hot and sunny. Our driver brings us to our casa particular, an apartment close to the old town. I found it through a Cuban travel service, thinking this may help to avoid a bad surprise. But when the driver told us we had arrived, I could not hide the shock to my system: It is one of the major avenidas (San Lazaro) and the houses are in a condition, that you could see the sky through the roof, no windows, no doors,….
We went up to the apartment, which was in better condition that the rest of the house, and got welcomed by the whole family including the kids, who awaited us with juice and lots of kisses.
The functionality was basic, the decoration done with love and care…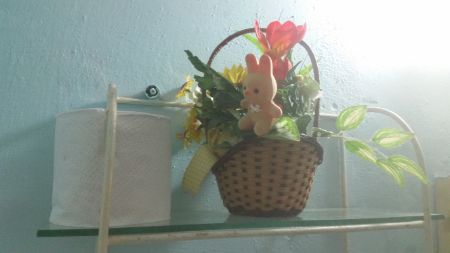 Coming out of the house, our nose had to get used to piles of garbage in the heat…
Havana is stunning. It has a touch of Spain from the ancient times, a touch from America with all the great old timers from the 50s and a touch of communism with little food diversity in the shops and lots of old buildings left in their original state.
Pure digital detox. It feels like we are showing the kids how it was "when we were young". What a difference without internet!
The people are all out on the street, opening their doors and windows, talking to each other, playing together, playing music, doing art, dancing,…
The life seems to happen right here and not in the device in our hands.
Everywhere we are chasing the differences to our life, the things we are used to, but don't exist here.
This is the only advertising we came across:
We walk around the old town and talk to people to find out more about their lives. Everywhere is Che Guevara and his values. It touches me deeply to see how he committed his life to a vision. Although he was Argentinian, he became the hero of Cuba together with Fidel Castro.
His monument is amazing, as it looks like the Madonna in Rio, just that it has some little details different: one hand in the pose of holding a cigar, in the other a cuba Libre…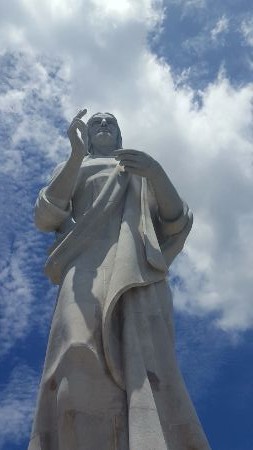 The heat is exhausting, so we decide to cruise around in one of the many oldtimers, 55 Chevy Belair.
The people love to talk to the tourists, talking about the rest of the world and trying to be helpful and creative.
Like the guy, who did some Simpsons portraits of us
There is diversity in style and expression.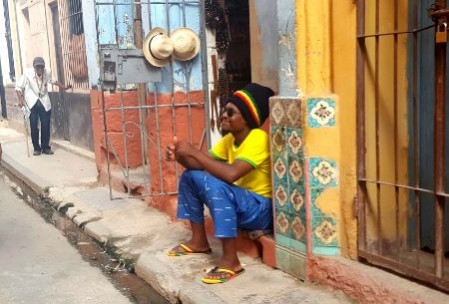 We explore Havana at day and night. Havana is full of salsa music and dancing everywhere. We sign up to private dancing lessons and dive into a Havana night. By cadillac we cruise to a casa de musica to find out, that it was closed as the ceiling caved in a few days earlier – ooopsss. So we cruised to the Casa de la Musica in the fancy suburb Miramar. Everybody was dressed up in tight dresses and fancy 50s style clothes, except for Gerry in his jeans and flipflops.
Everybody was sitting at little tables and listening to the salsa. An amazing band with about 12 guys was playing live on stage, while the audience just got up next to their table and danced like out of control. Nobody stayed in their seats, so we decided to do the same and shake it up.
I guess the skirts have to be short or tight….
You also can find great restaurants with amazing cocktails etc., but at European pricing. We loved 304 and El del frente.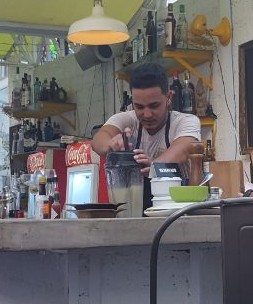 What is Cuba….?
…Officer girls at the airport with short uniforms and black net stockings underneath
… Buena Vista Social Club music everywhere
…dancing is key for the men to win a girl' heart. No salsa. No way.
…old street cruisers everywhere in all colours and various brands
…art, music, culture everywhere.
…main food is rice with black beans and chicken.
…bad coffee
…beautiful lush green country side
…quick fixes everywhere
…kids dressed up to the limit
…mojitos and daiquiris and fresh lemonade
….
Good to know….
Restaurants
There are tourist restaurants and local restaurants, where tourists could go as well. In these restaurants you can eat a full menu for 0,75 EUR.
Salaries
The salaries are incredibly low. It equals about 50 EUR a month for a teacher etc.
Toilets
Most of the time in public places toilet paper is provided from a lady sitting at the entrance and heavily expecting tip for that piece of rough paper. You get used to doors that would not close or missing toilet seats. You feel already lucky, if the water is coming down the toilet….
Donations
The Cubans found many ways to get some extra money from tourists. We like it, when the museums are free of charge, someone might join us and give us a private tour with many great insights.

Categories: Cuba